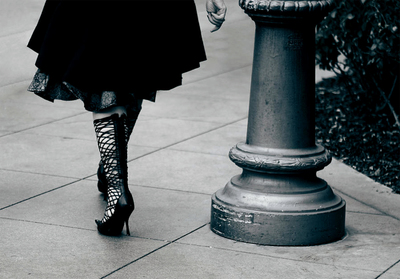 It's been a while since I've posted a blog here -- not sure why... can I blame it, too, on the pandemic? -- but I figured it was time to get back to taking advantage of the platform to shout out about thoughts, musings and notable events related to my photography business. I'll start with this quick news: I was recently contacted by a woman named Debbie Zipp, the "LA Life editor" of the sensational national newsletter for women, THE THREE TOMATOES, who reached out to me with the invitation to, as she described: "…come aboard to provide us with your beautiful, intriguing, and insightful photographs of Los Angeles for our 'LA Life Newsletter' cover photos."

How could I not love that? Of course I said, "YES!"

The first edition of that artistic endeavor launched last week. I'm delighted by the photograph she chose (one I call "Walk this Way"), the page on which it appears, and look forward to seeing what she picks for each future edition!

A little background: I met Debbie years ago when she was with a film company, In the Trenches Productions, who optioned one of my screenplays. I always appreciated her support and enthusiasm for my work, and we've stayed in touch over time. I've enjoyed reading The Three Tomatoes newsletters, always thought they were outstanding in their quality and content, so was really touched by the invitation to be involved.

As for the THE THREE TOMATOES, I think their words say it best:

"We're a lifestyle website inclusive of newsletters, podcast, and events for smart savvy 'grownup' women who want to live their life fully at every age and stage. We offer curated, entertaining, and informative lifestyle content that covers topics from fashion, travel, cooking, shopping and style, to frank discussions of sex, aging, and contemporary culture. It's a fun, eclectic, vibrant site with a loyal nationwide audience. Our lifestyle newsletters are published 2x a week. Our once-a-week recap newsletter gives highlights of new content at our website. And we have four city specific newsletters – New York City, Los Angeles, San Francisco, and Miami – where you'll get the inside scoop on things to do in those cities. And it's free to subscribe!"

I hope you will subscribe so you can not only see subsequent photographs of mine they roll out, but can avail yourself of the wide spectrum of offerings THE THREE TOMATOES feature with each edition.

Enjoy!

* * * * * * * * * *

Visit www.lorrainedevonwilke.comfor details and links to LDW's books, music, photography, and articles.